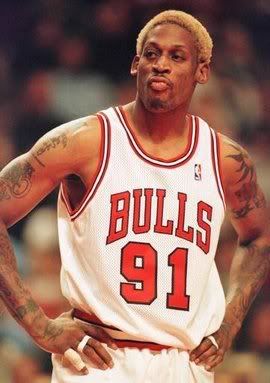 You know him. He's one of the most

eccentric

basketball players ever, always pushing the envelope. This time, he promises he won't wear a dress. Anything else, looks to be in play.

Some people wonder what

outrageous

stunt

Rodman

will pull at the induction ceremony if he ever becomes a member of the Basketball Hall of Fame. And why shouldn't they, when many of their most recent memories of

Rodman

are of him wearing a wedding dress to an autobiography signing event?

Rodman

says that there will be no dress involved, but he will do something crazy.

A look at his statistics would seem to indicate the 6-foot-7

Rodman

is Hall-worthy. Playing from 1986-2000, he won seven rebounding titles, twice was named NBA Defensive Player of the Year and won five title rings, two with Detroit and three with the Bulls.

But then there's all that other stuff.

The reason for

Rodman's

celebrity crossed over from sports to being known as the man who dyes his hair a multitude of colors and covers his body with ink and piercings.

And there certainly have been some rough areas, including a flirtation with suicide, head butting a referee and kicking a cameraman. Not to mention many tabloid worthy romances.

Nonetheless, I believe that

Rodman

deserves an induction.

The Hall of Fame has yet to call. If it does,

Rodman

will look to make his mark to be remembered for a lifetime.
-K. Murry